Hospital Expansion
Children's Hospital informs state it wants to buy New Orleans Adolescent Hospital (2012)
By Greg LaRose, New Orleans City Business, March 29, 2012

Children's Hospital has notified the state that it wants to purchase New Orleans Adolescent Hospital, the adjacent mental health care facility that has been closed since 2009.

Read More

Rep. Neil Abramson: New Orleans Adolescent Hospital should remain a health-care facility
By Bill Barrow, The Times-Picayune, April 07, 2010

After losing his fight last year to keep New Orleans Adolescent Hospital open as an inpatient mental health facility, Rep. Neil Abramson has returned this year trying to ensure that the Uptown campus at least continues to house some kind of health-care operations.

This time, Abramson, D-New Orleans, and state Health Secretary Alan Levine, the architect of closing NOAH, are on the same side, agreeing on a compromise bill that would accomplish Abramson's aim while satisfying the state's effort to aid Children's Hospital expansion.

The House Natural Resources Committee approved the revised version of House Bill 1150, sending the measure to the House floor.

Read More

Children's Hospital eyes buying, leasing shuttered NOAH
by Michael Luke / Eyewitness News, wwltv.com
Posted on April 16, 2010 at 7:21 PM

NEW ORLEANS – Children's Hospital had renewed talks to purchase or lease property from their shuttered neighbor, New Orleans Adolescent Hospital, according to Children's Hospital spokeswoman Cathleen Randon.

"Children's Hospital has previously explored the possibility of acquiring the former NOAH property and is encouraged by these recent talks," said Randon in an e-mail.

The geographically hamstrung Uptown hospital, with NOAH on side and Audubon Park on the other, has been looking for ways to expand its campus.

Pleased with the direction of the talks, Randon said the hospital would cease trying to buy land near Audubon Park for expansion – a plan that was met with a great deal of opposition from nearby residents.

"For the past several months Children's has been in negotiations with the Audubon Commission to acquire use of land between the hospital and Audubon Park for expansion purposes. In light of these recent discussions with LSU, efforts to acquire use of the land between the hospital and the park have been discontinued."

This would not be the the first time Children's Hospital used the facility, as employees worked at and provided services for part of the NOAH campus before Hurricane Katrina.

NOAH was closed in 2009 after Gov. Bobby Jindal vetoed funding for the hospital, electing instead to send the 35 beds to Southeast Louisiana Hospital in Mandeville.


Children's Hospital looking to acquire New Orleans Adolescent Hospital property
By Bill Barrow, The Times-Picayune, April 16, 2010, 12:05PM

Children's Hospital and Louisiana State University are in talks over an agreement that would allow the Uptown medical facility to expand into the shuttered New Orleans Adolescent Hospital campus.

Children's spokesman Chris Price said the talks have progressed enough for Children's to discontinue its pursuit of 5.5 acres next to Audubon Park, a plan that has sparked considerable resistance from residents of the area.

Read More

Children's Hospital in meaningful negotiations with state to acquire former NOAH property
Media Advisory sent out by Brian Landry of Children's Hospital, Friday, April 16, 2010:
NEW ORLEANS - Children's Hospital and the state of Louisiana, through LSU, have renewed discussions regarding a possible purchase or lease by Children's Hospital of the former New Orleans Adolescent Hospital (NOAH) property.
Children's Hospital has previously explored the possibility of acquiring the former NOAH property and is encouraged by these recent talks. For the past several months Children's has been in negotiations with the Audubon Commission to acquire use of land between the hospital and Audubon Park for expansion purposes. In light of these recent discussions with LSU, efforts to acquire use of the land between the hospital and the park have been discontinued.


What we learned at the District A Master Plan meeting... (2010)
First, and most important, the new Master Plan adopted in 2010 does nothing to protect our public parks from development. If this protection ever comes, it will be as part of a new comprehensive zoning code, which is possibly five years in the future, by which time there may be nothing left to save if the current rate of development is any indication.
Second, there is apparently vast confusion at City Hall as to who in fact owns and controls certain parcels of land that are historically a part of Audubon Park. This does not bode well for any positive outcome.

We don't know exactly where the confusion lies, but it seems unlikely that the question is whether the Audubon Commission can own property separate from its role to "administer, operate, and maintain" city property as per the Home Rule Charter. Section 5-802 (pp 150-151) of the Home Rule Charter of the City of New Orleans reads...
Read More

New Orleans public meetings scheduled to discuss Master Plan
District A
Tuesday, March 30th, 6 p.m. - 8 p.m.
City Park - Timken Center (old casino building) on Dreyfous Dr.
Parkview Terrace, 2nd floor
The New Orleans City Council, in coordination with the City Planning Commission, will hold public meetings in each Council District in an effort to inform and engage the public on the Master Plan, according to a press release from the council.
The council's Recovery Committee co-chairs, Cynthia Willard-Lewis and Jacquelyn Brechtel Clarkson, have scheduled the meetings from March 18-30. The public meetings will be held throughout New Orleans in each Council District.
Link to nola.com article
DISTRICT A MASTER PLAN MEETING AGENDA:
I. Welcome by Councilmember Shelley Midura
II. Overview of the Master Plan by City Planning
III. Public questions and comments:
-Please fill out your name and address on the comment card and write your question or comment on the back. Turn in your comment card to a member of Cm. Midura's staff or a member of City Planning Staff.
-Each card that is germane to the master plan will be read aloud and answered by planning staff. If the card is not germane to the Master Plan, someone from Cm. Midura's staff will contact you directly to assist.
-After your card has been read aloud and answered, if you would like to respond, you will have one (1) minute to do so.
-If you feel your question/comment requires further input beyond the answer provided by the planning staff, please email aechandler@cityofno.com with "Master Plan Comment" in the subject line.
-Comments may also be left with the planner by the Master Plan map.
As explained in the "Zoning" article below, it is critical that Audubon Park's neighbors ensure that the zoning changes in the new Master Plan actually remain, and are not derailed by those who seek to develop sites whose zoning has traditionally been at odds with their use, such as the land next to Children's Hospital that contains the tennis courts and Avenger Field. While this land in question has been zoned "Medical Services" under the current zoning code, it has been a publicly owned part of Audubon Park since 1949 when it was purchased by the Audubon Commission on behalf of the citizens of New Orleans. The new Master Plan finally corrects the zoning of this property and brings it in line with its traditional and long-standing use, a zoning change that advocates of the hospital expansion may try to 'excise' from the new Master Plan.

Neighborhood opposition slows expansion of Children's Hospital
by Paul Murphy / WWL-TV Eyewitness News
Posted on March 10, 2010 at 5:21 PM
NEW ORLEANS -- Organizers of the "Save Audubon Park" campaign say there are close to 1000 yard signs across the Uptown neighborhood of New Orleans, expressing strong opposition to a move to expand Children's Hospital.
According to the hospital's plan, new acute care beds and outpatient clinics would be built where tennis courts and ball fields now exist, where Tchoupitoulas Street meets the park.

"It's just not appropriate to take four or five acres away from the kids that practice soccer and soccer on Avenger Field and the hundreds of people, if not thousands or hours a week of tennis that's played here over at the tennis courts.
Read More

Zoning and Master Plan questions about the Children's Hospital Development (2010)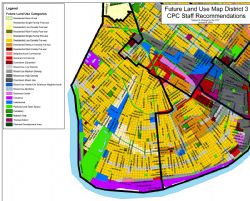 In a WWLTV interview January 19, 2010, Children's Hospital Vice President of Marketing Brian Landry is quoted as saying "What we're talking about is land that's adjacent to this campus that's always been zoned for medical services. The initial master plan was always to develop that site."

This mysterious Master Plan to which Mr Landry refers is certainly not the Master Plan developed by the Audubon Institute under public pressure between 2000 and 2004, shown on this site's home page, and not the new city Master Plan that has been in development with extensive public input since 2005, shown here. The land use and zoning map pictured here, dated January 6, 2010, is the Master Plan and Zoning map that the New Orleans City Planning Commission approved on Jan 26, 2010, after almost 2 years of work and a $2 million investment. On this map, it shows the land correctly zoned as park, appropriate both to its historical use and its ownership by the city's Audubon Park Commission since 1949.

Read More

A new threat to Audubon Park, that would mean more park land lost forever to development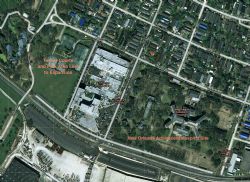 The Audubon Commission is considering a plan to give part of Audubon Park to Children's Hospital for development. The project will include at least two additional buildings ranging from 2-6 stories and a parking lot. This would mean that they would take over the portion of Audubon Park which is now the tennis courts on Tchoupitoulas and Avenger Baseball/soccer field and stretch all the way to to the street alongside the Zoo and Exposition Blvd. (East Drive), and will also stretch from Tchoupitoulas all the way to the levee. The tennis courts would then have to be moved to what is now green space on the Fly.

Read More

Save Audubon Park Yard Signs are in!!! Order yours today.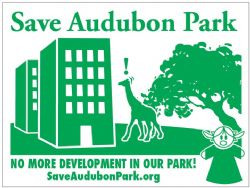 Thanks to the very generous donations received to date, we can now offer Save Audubon Park yard signs and car decals (for the bumper or window).
Please let us know if you would like them delivered to you, or if you can come by to get them. We will gladly accept help in getting them distributed, so if you are available, please let me know. Please ask your friends and neighbors if they would like decals or signs.
If you would like them delivered, please email Melisa at
neworleansmelisa@gmail.com
with your name, address and how many signs you would like delivered, or call 458-5269. Signs are also available for pick up.
Thank you to the volunteers who continue to work on getting petitions signed. We have a lot of signatures, but still need a lot more if we are to make an impression to the Audubon Commission.

Melisa Rey

District A Council Election
As a registered 501(c)(3) non-profit organization, we do not endorse candidates for public office. We can, however, remind people of some history when it comes to candidates actual deeds while in office that may be relevant to issues concerning Audubon Park, especially development issues.
One of this organization's biggest concerns with the new golf course plans way, waaaaay back in 2001 was the proposed new "clubhouse", which as we all know was really planned as a new restaurant in Audubon Park. However, our city's zoning code still expressly outlaws restaurants in Audubon Park outside of the zoo. This is why the zoo perimeter had to be expanded to accommodate the Tea Room when it was built in 1999.

On March 21, 2002, ANI CEO Ron Forman stood up before the City Council and stated that the clubhouse "is only for golfers and no one else." These claims were repeated in July 2002 in front of the Board of Zoning Adjustments as well, when the ANI insisted that since it was not to be a full-service restaurant, only a "food service facility servicing golfers", it required no zoning variance to be built in the park. In January 2003, ANI COO Dale Stastny testified under oath that NO non-golf related functions would be allowed in the building, weddings and wedding receptions specifically would not be permitted in the clubhouse, and that if someone asked to hold such an event in the clubhouse, they would be told "no".

We all know the "true" truth now, of course. Even in these days of seemingly constant revelations about public officials' misinformation and misdeeds, it remains truly disheartening that this restaurant was built on such a foundation, by those entrusted with the stewardship of Audubon Park, and with our public money to boot.

These people have the support of Jay Batt.

In 2002, after famously accusing incumbent councilman Scott Shea of "flip-flopping" from his campaign position on numerous issues, Mr Batt promptly flip-flopped himself after winning the election runoff on March 2, 2002. During the campaign, he supported the neighbors in their dispute against the Audubon Nature Institute's plans, saying that the inadequate public notice by the ANI was "intended to pull the wool over your eyes and get it done before you knew," and agreeing with critics that the plan "was steamrolled through" and should be readdressed by the City Council. However, after Batt's first post-campaign fundraiser was held at the Audubon Tea Room, he flip-flopped right over to the dark side and went on the attack against critics of ANI.

Jay Batt claimed during the 2002 campaign, as he does now, that he supports adherence to the city's Master Plan and Zoning Code and to taking planning and zoning decisions out of the hands of politicians. However, promptly after taking office, he scuttled City Council Resolution 02-192, which directed the City Planning Commission to carry out an expedited review of the entire Golf Course renovation project, with particular reference to its conformity with planning guidelines and the city's Master Plan. Mr Batt's excuse was that it was a "bad idea" for one city agency (the City Planning Commission) to "oversee the work of a parallel city-empowered commission", a precedent that doesn't bode well for holding the Audubon Commission accountable for adequate citizen input and participation in its development plans.

Canvassing this weekend: Volunteers needed!!
I'm sending out a big 'thank you' to those of you who have been working hard to get yard signs out. We can already see an impact on the streets that we've worked. We received another batch of them today and are expecting more...

Remember to ask friends and neighbors to sign our petition, put a car decal on, and put a sign in their yard.

We are planning to send out two groups of people this weekend (Jan 30-31) to get more signs out in people's yards. We will meet at the corner of Tchoupitoulas and Calhoun on Saturday at 9:30 and again on Sunday at 1:00. Please let me know if you are able to go out at these times with us. Of course, anyone can go out anytime, to do petitions, decals or signs but we thought it would be good to organize as many people at the same time if possible.

We are also looking for people to represent us outside of the polls on election day (next Saturday, Feb 6th) (within the guidelines of course.) We are planning to talk to people about our cause, get petitions signed, give out decals, and give out signs.

We've had several inquiries about large yard signs. We are so limited on money, we have not ordered large signs but if anyone wants one, we'll have some printed for a $40 donation for each sign requested. That's pretty much how much it'll cost us to have them printed.

Remember to let your political candidates know that this issue is important to you by displaying your car decals, signs, and by writing to or calling them directly. If you need contact information, let me know.

Thank you again for all of your support and help as we fight this proposal. The help and support that we've received has been very touching. Keep up the good work!

A million thanks, and Go Saints!!!!!!!!!!!!!!!!!!!!!!!

Melisa Rey
neworleansmelisa@gmail.com
504-458-5269


City Council District A Candidate Forum
Here's your chance to hear from the candidates.

Plan to attend and ask for each candidate's support to Save Audubon Park.

Several of the Audubon PArk area neighborhood associations are sponsoring a District A Candidate Forum, to be held Wednesday January 27th at 6:30 p.m. at Milestone Sabis Academy (St. Francis Assisi, 5951 Patton St).

All four candidates have confirmed their attendance.


Children's Hospital expansion plans draw criticism from neighbors
By Bruce Eggler, The Times-Picayune
January 20, 2010
A raucous public meeting Wednesday night on Children's Hospital's expansion plans drew more than 100 Uptown residents, many of whom spent much of the session jeering hospital and Audubon Commission officials.
One resident seemed to speak for many in the audience when he said, "Other than anger, I don't have a lot to contribute."
Children's Hospital officials would like to lease a 5.5-acre site behind the hospital for a multiple-phase expansion of the 55-year-old, 175-bed hospital.
The site, which now houses Audubon's tennis courts and Avenger Field, a former New Orleans Recreation Department playground, was not part of the original Audubon Park but was bought by a support group, the Audubon Natatorium, from a railroad in 1949. The same group sold land for the hospital to a group of doctors in 1950.
Read More

Hospital's 'near billion' dollars in assets
Posted by tchoupedup on nola.com
January 21, 2010

I attended the meeting and, in correction to the T-P article, not one commissioner from the Audubon Institute was present. Although Ron Foreman attended, he is not a commissioner.

Hospital representatives Brian Landry, VP Marketing and Steve Worely, Chief Executive gave an overview of the proposed expansion. Afterwards each person from the neighborhood was allowed to speak for 3 minutes each. Amazingly the hospital representatives could not advise the impact of the expansion on the following areas of concern to residences (nor did they have any current plans to study them):

Read More

Children's Hospital Expansion into Audubon Park
The Audubon Commission and Children's Hospital held a public meeting:

When: Wednesday, January 20, 2010
Time: 6:00PM
Where: Cafeteria/auditorium, Milestone Sabis Academy,
5951 Patton Street

Discussion items include:
-A long-term Cooperative Endeavor Agreement between the Audubon Commission and Children's Hospital allowing the use of 5.5 acres of land (Avenger Field and the tennis court land) adjacent to the hospital for expansion purposes.
-An overview of the hospital's expansion plans for the property.